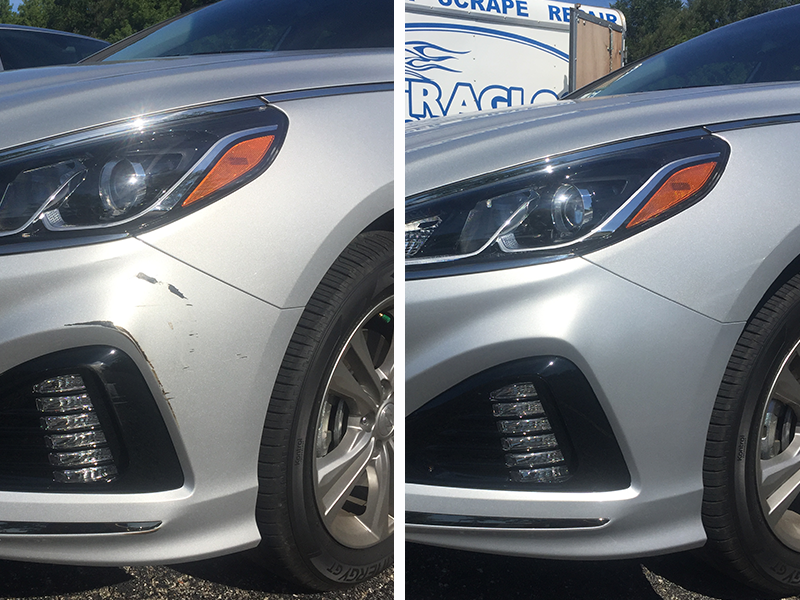 Paint Repair, Scratch Removal and Touch-Up
Ultragloss repair specialists are highly skilled and trained. They complete not only their initial training program and the required field hours, but they also participate in ongoing instruction, assessments and quality control exercises.
Ultragloss offers a variety of affordable paint repair options. Our paint repairs are often a fraction of the price of a regular collision shop. From a small repair to a major repair needing replacement parts…Ultragloss has your dealership covered!
Our approach depends on the severity of damage. We can handle any cosmetic imperfections that are inflicted on a vehicle— from stone chips and scratches to full bumper and panel painting.
Frequently Asked Questions
Q. Can I get repairs completed if I am a consumer?
A. Yes! We are in the process of changing our sales platform. Please check back to the website soon to find out the closest location that will be able to service you!
Q. Will Ultragloss match my existing paint color?
A. Yes. In order to perform a bumper repair or panel paint repair, our technicians will use your paint code to factory match your finish with PPG paint. Our experience helps us properly blend the paint into your existing finish for a flawless repair without repainting the entire piece. This technique lowers product cost and that is a savings we pass on onto our customers.
Q. How much does bumper repair cost?
A. The prices for our repairs depend on the severity of the damage, the location, and the amount of work that will go into the area. Depending on the type of repair the price varies. Once we know what kind of repair you need, we can give you a more accurate idea. 
Q. How long does a typical paint repair take?
A. It depends on a number of factors such as the severity of the damage, location of that damage, type of paint repair required and  size of the damage. Most of our paint repairs take 1-2 days. 
Q. Can I wash my car after the repair is complete?
A. We recommend waiting 2-3 days to wash your vehicle and do not wax for 3-4 weeks. This is suggested to ensure the paint and clear coat are fully cured.
Q. Do you provide bulk discounts for dealerships?
A. Absolutely. We provide a range of contract services to all types of auto dealerships looking to keep their inventory in top shape. The best part is that we will schedule trips as often as our dealership client requires to handle the entire lot on site.
Click the dealer tab for more information or call the shop at 330-252-9011.
Q. Is this a good service for lease turn-ins?
A. Yes, it is a great service for lease turn-ins! We are able to save you money on costly repairs prior to turning your vehicle in after your lease is up.
Ultragloss Family Divisions