If you're looking to buy a used vehicle- Here's some tips for you. Steve focuses on Certified Used Vehicles, after all—you're paying for them to be "like-new". These tips may also be generally applied to other used vehicles. So before you buy a used car or truck, read this:
I've been in the automotive industry for over twenty years. With the advent of the internet I have noticed a drastic shift in consumer demand for a quality product at an affordable rate. The internet has provided ways for consumers to research and compare products before going to look at them in person. To entice auto-seekers, the automotive industry has begun certifying certain used vehicles.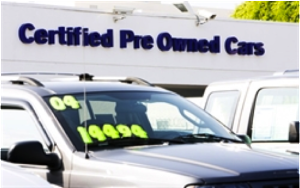 Buying certified used is almost like buying a new car because it offers a lot of the same amenities. In order for a vehicle to be "certified" it undergoes a rigorous 100-160pt (depending) inspection. These inspections cover both mechanical and appearance. Mechanical inspections are absolutely critical for obvious reasons. Repairs associated with mechanical problems can be extremely costly and the last thing most people want to do is make a car payment only to turn around and pay for repairs too. This is why certified used provide the owner with extra security.
The appearance of a vehicle is secondary to the mechanical parts. Nevertheless, it's still important. For the extra money associated with a certified used vehicle, you want to make sure it looks good. You're paying for that. Not to mention, the exterior is the first thing you see on car—most people like it to look good.
When you're looking at a used car, sometimes you can spot problem areas early on. I suggest walking around the car, paying careful attention to fenders and wheel wells. Look for paint marks because this could be a sign of rust. If rust isn't treated properly, it can come back fast.
You'll want to look all over the front bumper, hood, mirrors, and around the windshield for stone chips. Stone chips lead to peeling. What starts off small eventually gets worse. Make sure all the stone chips are touched up before you purchase your vehicle.
Pay close attention to the rims of the vehicle as you walk around it. Curb rashes are very common and can be easily (and affordably) repaired by companies like ours. If it matters to you, look at the hubcaps and make sure they are factory. Some dealerships would rather not invest in the factory hubcaps and opt for cheaper parts and hope the consumers won't notice.
Before you open the door, look at the driver's side (and other) door handles. Often times you'll find scratches here from keys and normal wear and tear. Additionally, when you open the door, check down by the fender for scratches, paint damage, and rust. Look closely for discolorations. The inside of the car can have just as many (if not more) damages than the outside. Look at the steering wheel; is it in perfect condition? Look around the dash and other plastic areas: are there scratches on the surface? Any cigarette burns on the seats? Any odors? Companies like mine can fix all of those for you and for the dealership. These are things that should be accounted for in the 100-160pt inspections. Sometimes, they're overlooked and they're affordable to correct. Plus, they add value to the vehicle.
The benefits of buying certified used vehicles can greatly outweigh the downsides. It's important that you're getting the best bang for your buck—and when you're paying for the "quality" you get with a Certified Used: make sure its everything you want.
Sincerely,
Steve Marble