While I'm grateful that we enjoyed a white holiday season, I'm ready for the snow to be gone. The sleet, snow, and salt are tracked into our homes and vehicles leaving messy slop across floors, embedded into carpets, and wherever else they work their way into.
My wife, Annette, and I are always telling our kids to wipe their feet. This is more challenging when entering our vehicles. I taught my kids a trick when they get into my truck. They climb in and spin their legs out of the car, click their feet together a couple of times to knock most of the snow from their boots. It's not a perfect plan, but it helps reduce the amount of gunk getting into my ride.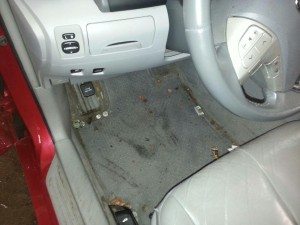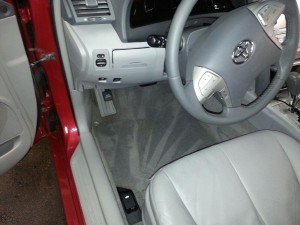 For the best results, combating the wear and tear of salt/snow/sleet: rubber mats come in handy. Aftermarket rubber mats such as Weather Tech® and Husky Liners® have been the most reliable for me. These types of rubber liners are nice because once they fill up with water, you can dump it out when it's conventient for you—Like when you're pumping your gas or getting out of you car after a long day's work.
Again, this won't solve all of your problems. I recommend (and frequent) my detail department. It's good to get your floor detailed with a quick shampoo to extract the salt, dirt, and debris from your carpet. This way the mixture doesn't embed itself into your carpets which may lead to discoloration. Right now, Ultragloss is offering this service for $30 in our detail department for the duration of the winter ($40 if you have a large SUV or van).
Preventing and regularly removing debris is key to keeping your interior healthy and looking new year-round.
Speaking of healthy… Any of you been sick lately? We've had several friends and family come down with "holiday bugs". While most of us scramble to clean our homes and offices, very few actually think about their vehicles (some of the dirtiest places on earth). Did you know the average car can have more germs than a public restroom? Disgusting!
We offer an affordable decontamination service at Ultragloss. This organic product continuously fights bacteria for 90-days to keep your vehicle germ free.
For more information about any of the Ultragloss Services, contact the shop: 330-252-9011.
For more specials, visit our Coupons & Specials page here.
Sincerely,
Steve Marble, Founder