Automotive Carpet Repair
Automotive carpet repairs are made easy and affordable through Interiorz (a division of Ultragloss). Our automotive interior repair team can repair stains, fading, tears, burn holes and more from the carpets in your vehicle.
Can't remove a stain from your carpet?
The Ultragloss detail department is notorious for removing tough carpet stains from your vehicle's interior. When they can't, they call in the Interiorz division who will repair the area. The color dying process utilized by the Interiorz division will depend on the damage, the carpets, and many other factors. In most cases, the repair is nearly flawless. Dying to color-match the area that was stained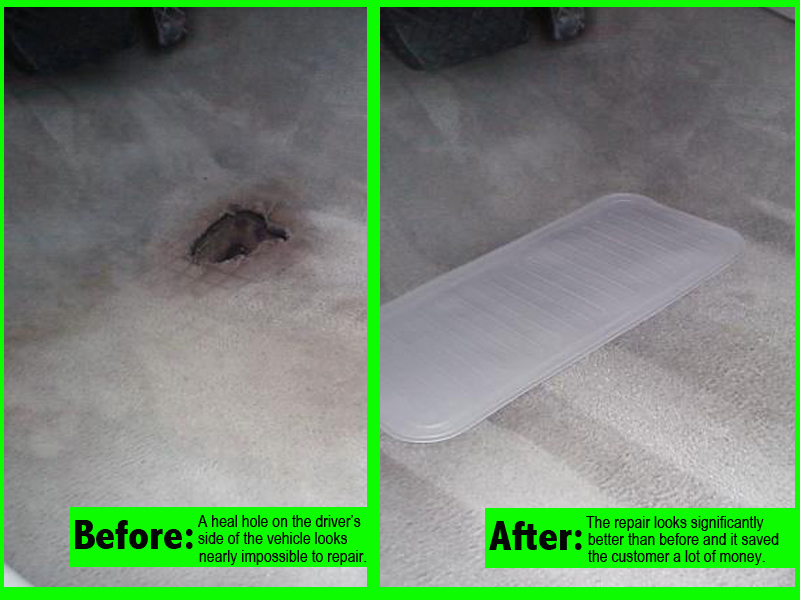 Carpet Dyeing
Carpet dyeing is an affordable solution to stains that cannot be removed. Dyeing can bring back the vibrant color your carpet once held. Bleach and other chemicals can remove the color from your carpet. Our Interiorz division has been successful color-matching to rid carpets of bleach, or dye over stained areas. Their experience enables them to better match colors for a quality repair.
Burn Holes in Carpet
Burn holes in the carpet are unsightly and lower the value of your automobile. There are options to repair the burn holes without replacing the carpet. Interior repair specialists have the experience and precision necessary to completely repair the burn hole in the carpet of your car. Have burn holes in other places? Click here to see our burn hole repair services.
Tears or rips in your vehicle's carpet?
There a number of ways you can acquire a rip or a tear in your vehicle's carpet. Pets, kids, equipment, and more can damage the carpet in your vehicle. Our interior repair specialists use high-quality products in conjunction with their craftsmanship to properly repair rips and tears.