We have an ad that will be hitting the radio soon about our newest special. I thought it'd be nice to give our web followers a chance to get this deal sooner. We're offering a decontamination service ($65 value) for free when you purchase an interior detail. If you want a clean car done professionally, now is the time!
You know what sends chills down my spine? Kids are back in school and they seem to pick up these bugs… I've noticed flu bugs, colds, and other illnesses going around like wild fire. When you or your child(ren) get sick, typically you go into cleaning mode. At least that's what my wife and I do. You wash the sheets and bedding, wipe down surfaces, and everything else to rid your home of the germs. And you do it more frequently to try and keep ahead of the germs so they don't spread more. Now what about your car?
Your car can be filthy… even though it looks clean. Maybe you keep sanitizing wipes handy and wipe down frequently touch areas- but that's not always good for the surfaces of your vehicle's interior. Certain chemicals should not be used on the interior surfaces of your vehicle. They may cause fading or damage to the finish.
Using traditional upholstery products may discolor your seats and the area may become quickly contaminated again. Rubbing them into the seat doesn't remove the debris from your seats, but rather pushes them down into the fabric.
So what if I told you we can not only remove all the contaminants and debris from your vehicle's interior, but additionally decontaminate your vehicle with an organic product guaranteed to continuously fight bacteria for 90-days?
We can. Our interior detail process is designed to remove dirt debris. And for a limited time only we're doing it for free when you purchase an interior detail. We're so confident that you'll see the difference between an Ultragloss detail and the "other guys," you'll want to come back for more. So there you have it: an affordable, professional interior detail with a FREE decontamination service.
Oh wait… That's not all. Don't you think this would make a truly unique, useful gift? Well you can purchase this package for your friend or relative for the holiday! Did you know right now for every $100 you spend on a gift card at Ultragloss we are giving you $20 back (offer ends December 25th)? Well it's true. So get your relative/friend an Interior Detail/Decontamination gift card ($185 value) for $120 and earn $20 UG cash towards your next visit… Or maybe use it as part of another gift (re-gift it).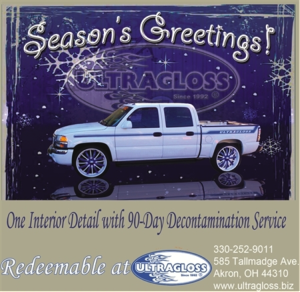 Our interior detail prices may vary and typically start around $120. For the quality service we provide our customers, it's worth every penny. What sets our details apart? We go over your interior with a fine-toothed-comb (LITERALLY—They're called detail brushes). We're not smearing around slimey silicone to mask the dust and dirt: we're completely removing it from your vehicle.
Got stains? If we can't remove them, we can improve their appearance significantly. Added bonus, our Interiorz division specializes in interior repairs (such as carpet dying and fabric repair). So chances are, if you really want it out of there: we can get it done.
Stop by Ultragloss today! And don't forget: SHOP LOCAL THIS HOLIDAY SEASON!
Sincerely,
Steve Marble
P.S. I watched a Dr. Oz Show about how germ-ridden most cars are. I was amazed by just how much bacteria is in an everyday vehicle! I remember one of the women on the show said she used sanitizing wipes and wiped down surfaces and they still found e-coli (most likely transmitted by her dog) on the steering wheel! I found Dr. Oz's article pretty much summarizing the show here: http://www.doctoroz.com/videos/your-car-making-you-sick.